Drinking RO Information
Core System
Basic reverse osmosis system that is used as the base for other systems.
Complete 5-Stage Reverse Osmosis
Complete system includes main system, tank, faucet, and installation kit with parts needed for most installations.
Stage 1 - Sediment
5-micron polyspun sediment filter traps dirt and particulates.
Stage 2 - GAC
Granular Activated Carbon reduces chlorine, chloramine, and a wide range of tastes, odors, and chemicals.
Stage 3 - Carbon
5-micron carbon block provides additional taste, odor, and chemical treatment.
Stage 4 - RO Membrane
50 gallon per day reverse osmosis TFC membrane offers up to 97% rejection of most contaminants in the water (see chart below).
Storage
4 gallon pressurized storage tank holds up to 3.2 gallons of water for quick dispensing, and automatically fills up when used.
Stage 5 - Inline Post Filter (GAC)
Final polishing filter ensures fresh, great tasting water every time.
Dispensing
System includes a basic chrome faucet for dispensing RO water. Upgraded styles and finishes are available, as are kits to connect to your ice maker/refrigerator dispenser.
Leak Prevention
Every system includes a FlowLok leak prevention system. The simple tray system sits under your RO and turns the water off if a leak is detected, minimizing water damage.
Installation Kit
Installation kit provides all the parts needed for most installs, including a feed water adapter, drain saddle valve, tank ball valve, tubing, and detailed installation instructions.
Upgraded Systems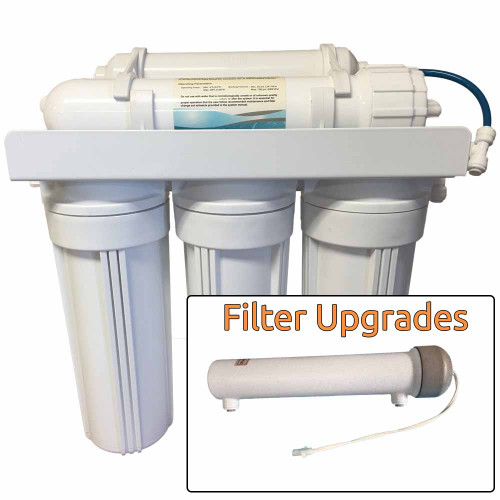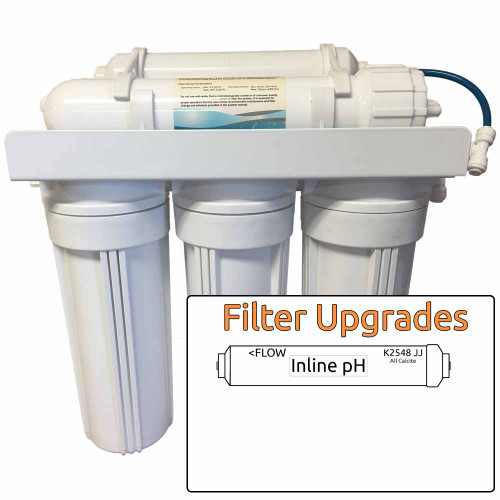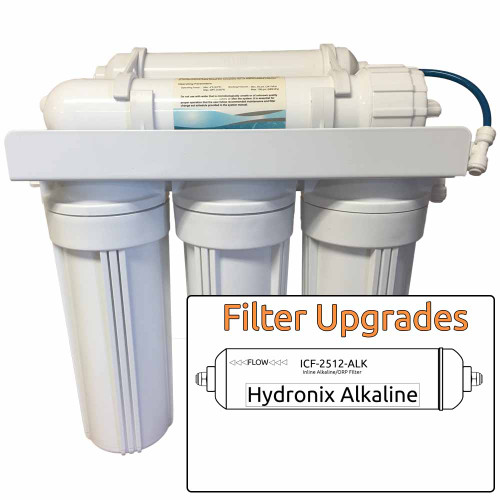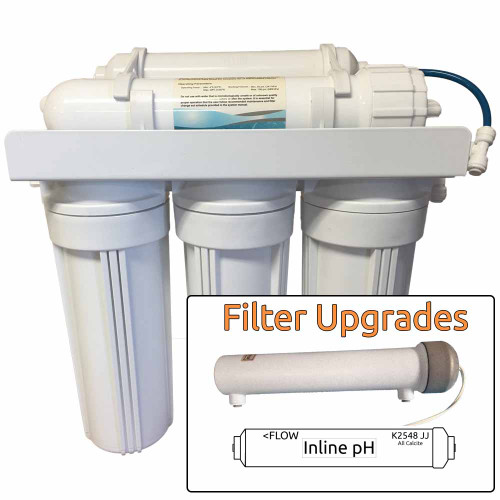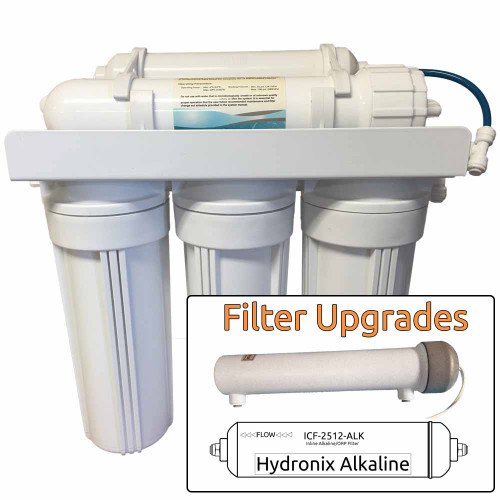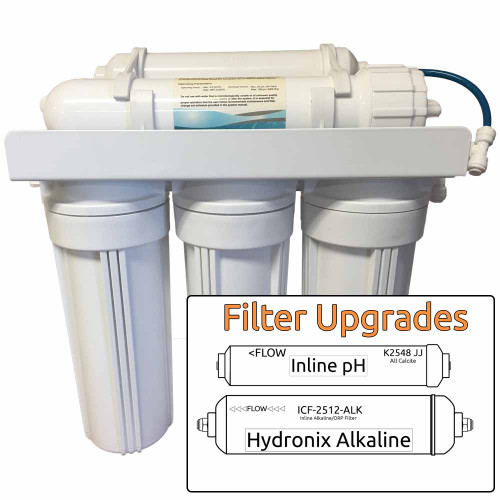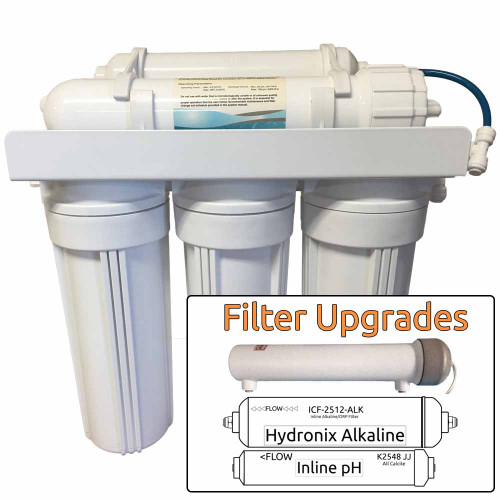 DRO-Gamma
DRO-Epsilon
DRO-Zeta
DRO-Theta
DRO-Iota
DRO-Mu
DRO-Pi
6-Stage RO
6-Stage RO
6-Stage RO
7-Stage RO
7-Stage RO
7-Stage RO
8-Stage RO
UV Light
Ultra violet light kills bacteria and viruses. Recommended for well water, homes with known bacteria problems, or homes with frequent water quality warnings.
Yes
No
No
Yes
Yes
No
Yes
---
pH Filter
Calcite based filter neutralizes acid and helps provide a pH as neutral as possible. Also adds some beneficial minerals (mainly calcium and magnesium) that RO removes
No
Yes
No
Yes
No
Yes
Yes
---
Alkaline Filter
Specialty filter uses multilpe stages to raise pH, increase alkalinity, add minerals, and lowers ORP for healthier water. For best results use in conjunction with the pH filter.
No
No
Yes
No
Yes
Yes
Yes
Typical TFC Membrane Rejections Rates
Contaminant
%Rejection*
Contaminant
%Rejection*
Aluminum
96-98%
Ammonium
80-90%
Arsenic
50-90%
Bacteria
95-99%
Borate
30-50%
Boron
50-70%
Bromide
90-95%
Cadmium
93-97%
Calcium
93-99%
Chloride
92-98%
Chromate
85-95%
Copper
96-99%
Cyanide
90-97%
Fluoride
92-95%
Hardness (as CaCO3)
93-97%
Iron
96-98%
Lead
95-98%
Magnesium
93-98%
Manganese
96-98%
Mercury
94-97%
Nickel
96-99%
Nitrate
90-95%
Orthophosphate
96-98%
Phosphate
95-98%
Polyphosphate
96-98%
Potassium
92-96%
Radioactivity
93-97%
Silica
90-98%
Silicate
92-95%
Silver
93-96%
Sodium
92-98%
Sulfate
96-99%
Thiosulfate
96-98%
Zinc
96-98%
*Rejection rates vary depending on many conditions. This chart is for reference only, and is not intended as a guaranteed analysis of water produced by any system purchased from Abundant Flow Water. Abundant Flow Water is not liable for any damages or losses caused by misapplication or misinterpretation of any information presented in the above chart, or for any damages or loses directly or indirectly related to the information given.